Food trucks rely heavily on social media to engage with customers and spread news about their truck. It's difficult to overstate just how huge a role social media plays in food truck success.
In fact, in many ways social media engagement can make or break a food truck.
While it's difficult to correlate exactly what factors cause a food truck to thrive or dive, it's fair to say that the best and most successful food trucks are the ones who spend a ton of energy and time on social media.
 While social media isn't the only indicator of success, it's definitely a big one.
Why Is Social Media So Important For Food Trucks?
 In today's web-centric society, communicating with customers and developing relationships with them online is essential. All businesses and restaurants need to dedicate time and effort in developing a web presence.
For food trucks, the need is even stronger. For one, food trucks have no permanently fixed location, which means customers need to be updated about your current location.
For many mobile eateries, relationships are pivotal to success. Social media is what helps food trucks establish relationships with customers. That relationship can eventually develop into intense loyalty, and those are the eaters that will advocate for you and be your devoted regulars.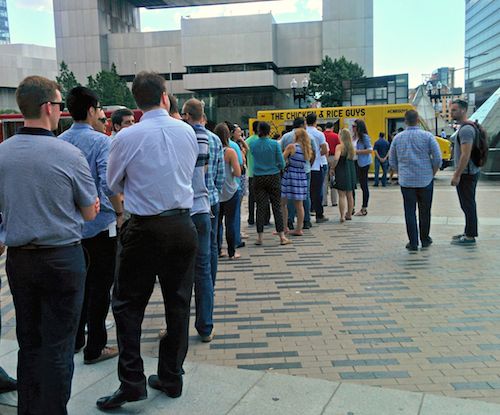 Modern businesses can no longer rely on traditional marketing, which has often been irritating and interruptive. Today's customers want to be courted – they crave personal, intimate experiences with the brands they follow. If food trucks want to become household names in their city, state, or even the country, focusing on relationship building is an absolute must.
There are many ways to develop connections with customers, but social media is an essential cornerstone of relationship-building.
What Social Networks Should Food Trucks Focus On?
Food trucks need to utilize social media to build an audience and engage with them, helping to create your food truck followers who will become your loyal fans.
Here are some social networks we deem as must-haves for food trucks.
Twitter
Twitter's short and sweet news-esque quality makes it the perfect site for giving fans updates on your truck's location. Let them know where you are, if you're running behind schedule, and what you've got cooking that day! Twitter tweets with images always get more retweets, so make sure to load up on images for Twitter.
Twitter also serves as a great spot for broadcasting your brand and building community. Consider #ThrowbackThursday events or make up your own!
Instagram
As the main hangout for photo-obsessed foodies, Instagram is an obvious social network for food trucks. The heavy image sharing makes it the perfect site for posting pics of your tasty dishes and stylish truck. Instagram has a heavy local element, giving users the ability to easily add location information to photos.
Yelp
You can't be in the restaurant industry today without taking Yelp into account. Remember, whether or not you create a profile, users can review you regardless, so your best bet is to be proactive. Deck out your Yelp account with photos, menu details, staff pics, and other rich details. Once you've got a good customer base, begin asking for reviews and watch those gold stars roll in!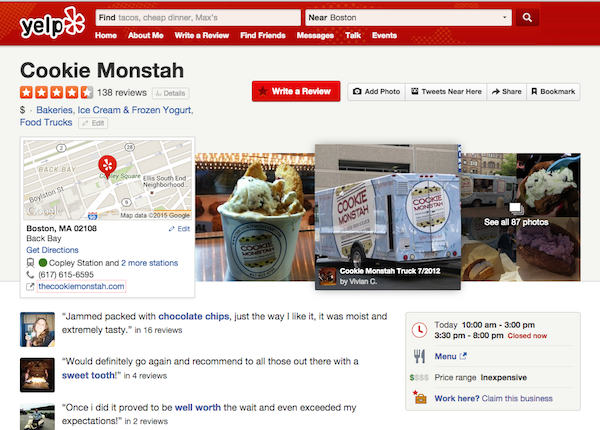 Google+
Google+ isn't the most active social network, but your Google+ business page gets priority in Google search listings, so definitely make sure to create a Google+ business page and fill out all your details (along with plenty of photos). Users can review you via Google+ as well, and having high star ratings in the Google listings looks fantastic.
Other social networks you should have accounts for (but don't need to be as diligent with) are:
Facebook
Facebook is a mainstay in the world of social media, and you'll definitely want to create an account. While creating and filling out a Facebook business page for your truck is a must-do, Facebook likely won't be your main hangout. While you'll certainly want to post now and again on Facebook, you'll likely find Twitter and Instagram to be your best hangouts.
Pinterest
Pinterest is an incredibly popular social media site for image sharing. However, with little in the way of location specifics, you'll find your foodie photos being shown to people around the world, which doesn't do your little NYC or Orlando food truck a ton of good.
Pinterest can be great for sharing food truck designs and is superb for recipe sharing. However, it'll be very difficult to attract the right kind of local-specific traffic via Pinterest, so don't sweat this one too much.
Food Truck Social Media Scheduling & Reliability
Because you're a restaurant with wheels, you can roll off to several locations in one day! This is one of the reasons why food trucks are such fun. However, the constant location shifting means that your fans won't always know where to find you.
Some of this confusion is remedied by social media (especially Twitter), but it's still essential that you stick to your set schedule as much as possible.
Think ahead in allowing extra time for traffic, and when you are running late, make sure to post about it so your fans know.
If you need to skip a stop entirely due to catering commitments, breakdowns, or other happenings, give your fans as much notice as possible (and remind them several times before and during your missing time slot).
Leaving your foodie fans waiting for you in the rain will not build a great relationship.
What Food Trucks Should Post on Social Media
 You can post all sorts of things to your social media accounts, but to get you started, here are a few topics we recommend.
Truck Updates. Did your truck get a new food truck wrap? Did you upgrade equipment? Share that truck news!
Event Information. Post information about any cool events you are catering or upcoming food truck festivals that you are attending.
Schedules. Share your daily schedule so folks know where to find you. For your lunch shift, make sure to post several times shortly before and after lunch time (11-1 for example). Remember, posting your lunch schedule at 9am probably won't be noticed by many, as it's not immediately relevant.
People Photos. Post photos of smiling staff members and happy customers.
Brand Building. Share articles and fun pieces related to your brand personality to help develop your voice.
Today's Menu. Post today's menu and any specials so that your fans have a chance to get excited.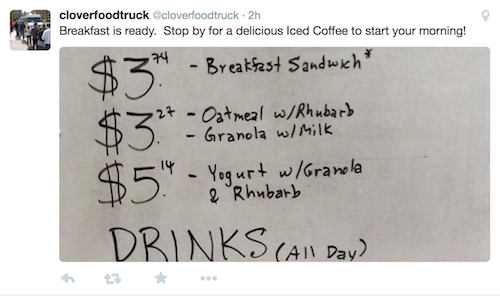 Community Happenings. Post news of local happenings and community activity. Food trucks are very community-oriented, and you as a food trucker, you're tasked with becoming a community developer. The more involved in your community you become, the stronger your food truck presence will be.
Food Photos. Sharing photos is always a smart idea, as picture posts receive higher engagement. In addition to staff and customer photos mentioned above, sharing photos of the truck, food, and even landmarks around you is a sure why to get fans engaged.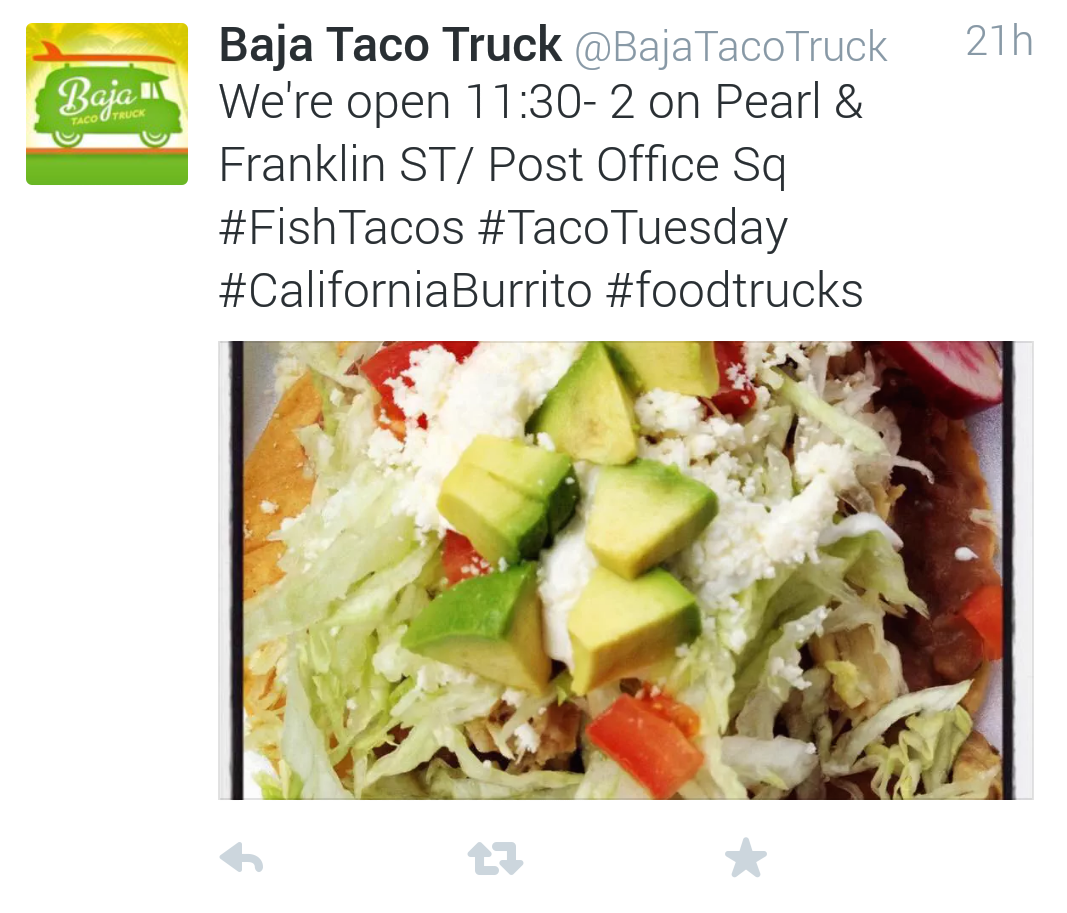 New Dishes. Post news about new dishes and menus you're trying out.
Promotions and Contests. Consider hosting contests or running special deals through social media. If you have a food truck customer loyalty program, promote it via social. Your contests don't even have to be super formal – check out the example below from The Bacon Truck!
How to Engage With Fans on Social Media
When fans reach out, you don't want to leave them hanging! Here are a few ways you can continue to engage with your food truck social media followers.
Reply to Comments. Every fan interaction should get a response from you. If followers say they're excited about seeing you at a food truck festival or say how much they enjoyed lunch with you, be sure to reply with a kind response.
Say Thanks. Make sure to say thanks to fans for tagging you in photos or for giving you shout outs on social media.
Encourage Dialogue. Build dialogue with fans by asking for input on new dishes or new locations they'd like to see you set up. You might consider asking fans if they'd like you to start serving lemonade or ice tea – asking fans to choose for you (and having them see you respond based on their suggestions) shows that you value customer opinions and helps build a good relationship.
That concludes our ultimate food truck guide to social media! If you liked this guide and want to see more like it, let us know in the comments!
Also share your food truck experience with social media below – we want to hear your trials and success stories! What works for your food truck? What doesn't? Let us know!